Content Manager
Copyright (c) 2012-2023, Codefarts
contact@codefarts.com
http://www.codefarts.com/

Provides a simple easy to use content manager for loading assets. Portable class library written in C# that supports caching, and asynchronous loading of assets.
Also includes example projects for Silverlight & Windows Phone (XNA).
Current Features
Virtually identical usage to the XNA ContentManager class but with more features.
Supports asyncronous loading, with ability to check how many loads are still pending.
Fully commented & organized C# source code.
95+% of source code conforms to default StyleCop settings.
Table of Contents
Bug Reporting [ Top ]
If you find a bug or undesired behavior you can send an email to contact@codefarts.com with a description of your issue.
Or you can use the built in feedback and suggestion reporting tool by selecting "Window->Codefarts->Error Reporting and Feedback".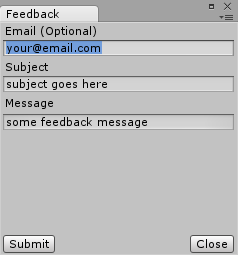 The "Email" field is optional but you could also specify your social media contact info such as Twitter if your submission requires a response from the codefarts team.
Version Notes [ Top ]
Items starting with "Completed" are items that have been fully implemented as they were intended
Items starting with "Partial" are items that have only been partially implemented.
Version 1.0
License Information [ Top ]

Content Manager by Codefarts is licensed under a Creative Commons Attribution-ShareAlike 3.0 Unported License.